Can Unmarried Partners In Orlando Seek Spousal Support After A Break-Up?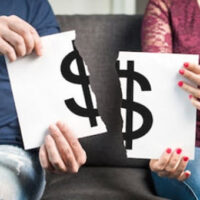 Palimony. The one letter word that strikes fear in the hearts of unmarried couples all over the United States. Is it enforceable? Are you really entitled to spousal support or alimony from a former partner if you were never married? Spousal support determinations are often the most contentious and drawn-out issues in divorce cases, but it can get more complicated with unmarried partners.
Is Palimony Enforceable in Florida? 
Palimony, or spousal support for unmarried couples who separate, is not legally enforceable in Florida. Fla. Stat. 61.14(1)(a). This is in part because Florida does not legally recognize common law marriage to couples cohabitating after 1967. In some states, unmarried couples who hold themselves out to be married for a certain length of time are entitled to similar protections under the law as married couples when they split up. 
That being said, in some very limited circumstances, an unmarried partner might be compelled to make a financial payment to another partner after a break-up. If the couple drafted a written agreement akin to a prenuptial agreement prior to their break-up, and it discussed financial obligations of each party should they separate, that contract may be legally enforceable under the law. However, this issue would not be heard in family court because it seeks to enforce a contract clause. The party seeking financial support would need to prove the contract was valid, meaning there was an offer, acceptance and consideration between both parties, and that neither party was forced into signing or incapacitated when they signed the contract. Often courts are unwilling to enforce a palimony agreement if cohabitation did not occur or if both partners have similar ability to support themselves financially. 
What about Unmarried Partners with Children? 
Alimony, or spousal support, is a separate determination from a child support order. Even though child support is paid to the custodial parent, it is for the benefit of the children and is ordered by a family court judge in consideration of the child's best interest.  If you are unmarried and share children with your co-parent, but no longer cohabitate together or are at odds about who is responsible for what, you need to contact an Orlando family law attorney as soon as possible to obtain a legal custody order and possibly pursue a claim for child support. Parents cannot automatically qualify for child support payments unless they file.
Contact Our Orlando Family Law Attorneys at Donna Hung Law Group 
If you are unmarried and recently separated, but believe you are entitled to spousal support, you should speak to our Orlando family attorneys at Donna Hung Law Group as soon as possible. In addition, if you are unmarried with children it is urgent you contact us so we can assist you with drafting a parenting plan and determining child custody. We are a small law firm dedicated to helping families throughout Orlando and Orange County resolve issues expediently. Call today to schedule a consultation.