Can You Move Out of Florida with a Child if You Have a Parenting Plan?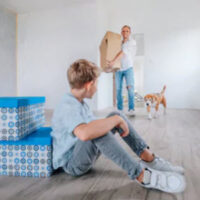 If you are the custodial parent who needs to move out of Florida for whatever reason, you may be worried about the potential consequences of the relocation. Many divorced parents may need to relocate to a different state for a new job, marriage, or other reasons.
If you share a minor child following your divorce and are required to adhere to an agreed-upon parenting plan but need to move out of Florida, you need to understand the legal requirements and limitations associated with the relocation in order to avoid violating court orders.
When Parents Can Come to an Agreement About Relocation
Often, divorced parents maintain a healthy co-parenting relationship and are capable of finding a middle ground without having to go to court or having a judge resolve their disagreements. In such cases, parents may be able to reach a consensus on the custodial parent's move to another state.
For instance, if a custodial and non-custodial parent developed a timesharing and parenting plan in Orlando, Florida, but the custodial parent got a job offer in Los Angeles, California, to move up in salary and job title, and the new location offers better educational opportunities for their child, the non-custodial parent may not have anything against the move.
In that case, the parents would have to replace their existing parenting plan with a new plan that addresses how they will continue to co-parent with a long-distance parenting plan. If they come to an agreement that would be approved by the judge, there is nothing preventing the custodial parent from moving out of Florida.
What if the Relocating and Non-Relocating Parents Cannot Reach a Consensus?
However, more often than not, divorced parents are bad at communicating with each other, let alone working out some form of an agreement. Luckily, Florida Statutes, Section 61.13001 sets forth a legal procedure to help divorced parents resolve their disputes regarding relocation:
The relocating parent must file a Petition to Relocate. The petition must contain reasons for the move, the new location, the parent's proposal to modify the parenting plan, and an explanation of how the move will benefit the child.
The petition must be served upon the non-moving parent, who can respond within 20 days to contest it.
If the non-relocating parent does not contest the move, the court will schedule a hearing within 30 days of filing the Petition to Relocate.
Like in all other child custody matters, the decision made by a judge in your relocation case will be based on the child's best interests. In particular, the judge will look at how the move would affect the child's relationship with the non-moving parent as well as its effects on the child's health, education, and development, among other things.
If you are the relocating or non-relocating parent looking for legal assistance, contact our Orlando relocation attorney at Donna Hung Law Group to discuss your options. Call at 407-999-0099 or complete our contact form for a consultation.