Couples More Likely to Seek 'Impulsive' Divorces During the Coronavirus Quarantine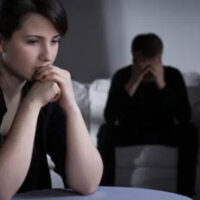 As 830 cases of coronavirus (COVID-19) have been confirmed in Florida as of March 22, Floridian couples who quarantine themselves for prolonged periods of time are at risk for divorce.
Experts warn that married couples are more likely to file for divorce during or after the coronavirus pandemic due to self-isolation, lockdowns, stress, and financial uncertainty.
Xi'an, the capital of Shaanxi Province in China, is a prominent example of this. In the Chinese city, where more than 10 million people were placed under lockdown, there was an unprecedented number of married couples requesting divorce appointments and consultations with lawyers.
According to The Global Times, being "bound with each other at home for over a month" due to the coronavirus quarantine creates or aggravates the underlying conflicts and may lead to more couples seeking "impulsive" divorces.
How the Coronavirus Quarantine Increases the Risk of Divorce
Experts warn that self-isolation and coronavirus quarantine can affect marital relations and cause negative psychological effects. According to a study in The Lancet, quarantine can cause such effects as:
Anger
Confusion
Stress
Post-traumatic stress symptoms
Factors that increase quarantine-induced stress during the coronavirus pandemic include:
Fear of infection
Boredom
Financial instability
Uncertainty over paid sick leave
Inadequate supplies
Fear of financial loss
Stigma
Frustration
Being confined to a small space
As more states are ordering residents to stay home during the coronavirus pandemic, an increased number of American couples could be prone to divorce. After all, being together in a small space for longer periods of time than usual can take a toll on your relationship. In addition, stressors, fears, uncertainty, and the fact that you cannot escape your spouse (e.g., by taking a walk or meeting your friends) can worsen the problem.
How to Minimize the Negative Impact of the Coronavirus Quarantine on Your Marriage
In order to maintain a healthy and conflict-free marriage during the coronavirus quarantine, follow the recommendations from the "Gottman Method." According to the Method, couples need to maintain the ratio of positive to negative interactions during a conflict. For every negative interaction, couples must strive to make at least five positive comments or gestures.
In other words, discover ways to express your appreciation, affection, and interest to minimize the negative impact of the quarantine on your marriage. In times of uncertainty, it is critical to keep conflicts to a minimum and learn to compromise when any conflicts arise.
After all, the United States, as well as the entire world, could be on the verge of entering the coronavirus (COVID-19) recession, so it is vital to maintain a healthy relationship with your loved ones. However, if your disagreements with the spouse during the coronavirus quarantine were the last drop, and you are determined to get a divorce, speak with lawyers.
Schedule a phone consultation or meet with our Orlando divorce attorneys via a web video call to discuss your particular case. Our lawyers at Donna Hung Law Group continue working with clients who prefer to stay at home during the pandemic. Call at 407-999-0099 to schedule a consultation and discuss your divorce case during the coronavirus pandemic.
Resources:
psychologytoday.com/us/therapy-types/the-gottman-method
tampabay.com/news/health/2020/03/22/florida-coronavirus-cases-reach-830-with-four-new-tampa-bay-cases/
globaltimes.cn/content/1181829.shtml
https://www.donnahunglaw.com/advantages-and-disadvantages-of-filing-first-for-divorce-in-florida/