Gray Divorce In Orlando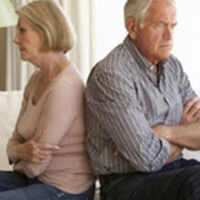 Divorce rates among middle aged couples and retirees in Florida continue to skyrocket. Over the past two decades, divorce rates have leveled off, but among the elderly age bracket have actually increased substantially. There are several theories for why this is currently occurring. First, divorce is no longer something to be ashamed of and older generations recognize this. Second, some couples realize later in life that they are not right for each other and would rather enjoy their golden years separated than together. Here are some things to keep in mind if you are divorcing and are over 60 in Orlando
Distributing Property
 As couples age they tend to amass more property. This includes personal and real property in addition to investment and savings accounts. Elderly parties might also be drawing on Social Security, Medicare, pension benefits, or retirement benefits. This all means that there is more at stake. Our attorneys at Donna Hung Law Group can help you identify a comprehensive list of assets and liabilities. We can prepare a financial statement so you can determine what you are equitably entitled to at settlement. It is important you consider all factors before jumping into signing divorce papers. This is especially true if you may be entitled to rehabilitative or permanent alimony. Later in life it can be more difficult to financially recover from a setback. And it is no surprise that divorce can affect your credit. For this reason, you should evaluate all options on the table before making a decision.
It's a Family Affair
Divorce also has its challenges on other members of the family. While no one disputes that divorce for young children can be very traumatic, divorce affects adult children as well. It changes the family dynamic and can affect an adult child relationship with either parent. Parental alienation can and does occur even amongst adult children. It's also not rare for parents to involve their children in marital disputes, much to their chagrin. It's important that couples considering divorce try to maintain a sense of separation and keep things civil with their loved ones. It's not necessary to rehash and discuss every small drama, and it is often beneficial to seek out the assistance of a professional instead. That being said, receiving pushback from an adult child regarding the status of your marriage should not influence your decision. It is your life to live. Just because you may have gray hairs or are retired does not mean you aren't entitled to happiness. Divorce doesn't have to be scary. Our attorneys at Donna Hung Law Group can help you through each step of the process.
Schedule a Consultation Today
If you are considering divorce or have substantial assets to divide, you should consider speaking to an experienced family law attorney. Attorney Donna Hung is an Orlando collaborative attorney. Snowbirds who flocked to Florida don't always stay together. If you're finding yourself in the midst of a complicated divorce, reach out today for assistance. Our team can help you through this. Call today to schedule a consultation.