How a Collaborative Divorce is More Beneficial for Parents with Substance Abuse Problems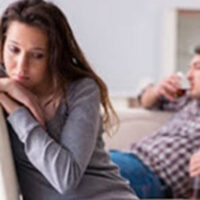 Collaborative divorce has many advantages, especially when one of the spouses suffers from substance abuse. Not only does ending a marriage through collaborative law save time and money, but it also allows spouses to have greater control over the entire process.
One of the benefits of seeking a collaborative divorce is that spouses can maintain an amicable and productive relationship, which is especially important if these spouses have children together.
But what about such a sensitive issue as alcoholism? With an experienced Orlando collaborative divorce attorney by your side, issues like alcoholism and substance abuse can be addressed in a collaborative divorce, providing both spouses more privacy than a traditional, litigated divorce and helping parents come to an agreement regarding timesharing and parenting more constructively.
If you or your spouse have substance abuse problems and are wondering whether a collaborative divorce is still a good option, speak with our family law attorneys to discuss your particular case.
Collaborative Divorce and a Parent's Substance Abuse
If you have problems with alcohol or drugs, even if you are in recovery, it is perfectly normal for your spouse to be concerned about you having child custody or unsupervised visitation rights.
That is particularly true if your alcoholism or substance abuse led to incidents where a child was neglected, abused, or exposed to harm.
In this case, the only way to regain your spouse's trust, protect your custody rights, and prove your parental fitness is by agreeing to a collaborative divorce. Often, parents who have had substance abuse problems can benefit from remote alcohol monitoring to prove their parental fitness.
Remote monitoring systems are very similar to Breathalyzers and are used to track a person's sobriety in real-time. If you agree to remote alcohol monitoring, your ex-spouse will be able to confirm from any location that you are sober when spending time with the children.
Typically, if you opt for a litigated divorce, there will be a judge and a social worker reviewing these results. However, if the spouses choose a collaborative divorce, they can enjoy a greater level of privacy.
If alcohol or drugs are an issue in your divorce, you may want to talk to an Orlando collaborative divorce attorney from Donna Hung Law Group.
How a Collaborative Divorce Can Help Regain Trust
If you have had a history of substance abuse, want to regain the other parent's trust, and fight for your parental rights, opt for a collaborative divorce. Unlike in a litigated divorce, honesty is actually rewarded in collaborative divorces.
In fact, since traditional divorce tend to punish honesty and rarely present parents with the second chance when granting custody or visitation rights, parents with substance abuse problems feel compelled to either minimize or deny the allegations of alcohol or drug abuse out of fear of the other parent taking away their children.
Luckily, since collaborative divorces and mediation are operated outside of court, it allows spouses and parents to address any problems, including substance abuse problems, in a healthy and constructive way while searching for a mutually beneficial resolution.
Benefits of a Collaborative Divorce
Let's discuss other, lesser-known benefits of the collaborative process when handling child-related aspects of divorce:
Privacy. All information about the process is kept confidential and is not available for the public.
Cost-effective. Collaborative divorce are less expensive than litigated divorces.
Amicable. The collaborative divorce presents a chance to maintain a friendly relationship.
Healthy. Since collaborative divorces involve highly-trained and experienced lawyers, it is a healthier option to preserve family relationships instead of destroying them.
Control. Spouses get to control every aspect of the outcome instead of letting a complete stranger – the judge – make all the decisions for them.
Discuss your particular situation with our Orlando collaborative law attorney from Donna Hung Law Group to find out how the collaborative process can benefit you and your children in your circumstances. Call at 407-999-0099 for a confidential consultation.
https://www.donnahunglaw.com/three-situations-when-collaborative-divorce-is-not-for-you/