Should People Continue to Live Together After Filing for a Divorce?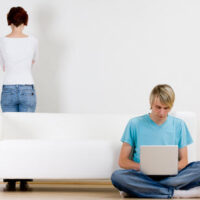 Regardless of how cordial couples may be, after filing for a divorce there may still be some ill will and discontent from both sides. Divorces tend to have a continuous impact on divorcees emotions as well as their finances.
In many cases, couples will fail to think about their living arrangements before filing for divorce. Depending on the financial situation, a couple may be forced to sell the family home and find two cheaper living arrangements. Establishing a new living situation typically necessitates a lot of preparation and planning, especially when children are involved. Thus, it is important to consider your living arrangements before the divorce is filed.
Most couples discover a way to manage and carry on living under the same roof until after the divorce is finalized. However, this can be both extremely stressful and challenging. What was once a loving home can quickly turn into an unending battle field. After all, you most likely would not be getting divorced if you could get along with one another without any difficulties. 
Helpful Tips to Make Living Together Manageable
Try and keep the arguing to a minimum. Every relationship has its fair share of arguments. Arguments can seem especially bad during a divorce, but it is important to make a combined effort to communicate without fighting. Focus on respecting your spouse and not inflaming any hostilities.
Be especially cautious and respectful around the children. Constant tension and quarrels will cause your children even more stress in an already emotionally wearing and sensitive time. Make sure you have self-control and manage your temper around your children.
Respect one another's personal space. If possible, you and your spouse should designate separate spaces for each other and set boundaries. Do not go in your spouse's space without first getting permission.
Practice basic roommate manners and etiquette. You should clean up after yourself, restrain yourself from snooping on your spouse or going through his or her stuff, and do not eat any food that is not yours. 
Reasons not to Continue Living with Your Spouse 
Your spouse is overly aggressive or abusive. You should not subject yourself to any further abuse from your spouse, especially when children are involved. 
You or your spouse are seeing someone else. Technically you are not officially divorced, so seeing someone else could be considered cheating. If you choose to date anyways, make sure you do so with discretion and avoid bringing him or her home with you. 
You do not trust your spouse. During divorces emotions often get the best of people. If you think your spouse will encroach upon your personal property or commit any cruel acts against you, such as this Michigan man who poisoned his former wife, you should move out.
Don't Hesitate to Contact an Experienced Divorce Attorney 
An expert Orlando attorney at Donna Hung Law Group will represent your interests throughout each phase of the divorce, from filing the divorce paperwork to managing more complicated issues, including property distribution, child custody, and alimony. Our team with do their best to advise you on any issues, such as continuing to live with your soon to be ex-spouse.
Since divorces can be complex, stressful and filled with emotions, we suggest contacting our dedicated law firm as soon as possible. It is critical for you to hire the most qualified attorney to tenaciously fight on your side.
The skilled and supportive Orlando family lawyers at Donna Hung Law Group make a personal commitment to obtaining the best results for every client. Contact us online or call at 407-999-0099 to discuss your pending divorce in more detail.
https://www.donnahunglaw.com/does-remarriage-have-an-effect-on-a-previous-divorce/