Supporting Teens When Parents Split Up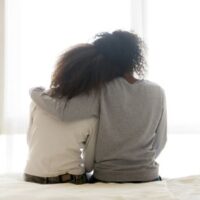 A separation or divorce is difficult for everyone in the family. If you have children, recognize that each age range will process the information in a different way. When you notice your teen distancing themselves from friends and activities they have enjoyed in the past, it may be time to connect with them and be sure they are receiving the support they need.
Experiencing frustration and worry during a divorce is common, for the individuals choosing to end the marriage, their children, and their extended friends and families. But there are supports available to guide you and your family through the process. For legal concerns, connect with an Orlando divorce lawyer. Then, you can focus on family matters while your attorney builds your post-divorce life.
Ways You Can Support Your Teen
Each person is unique and what works for one family may not be what works for another. But generally, showing interest in your teenager and giving them time and space to open up to you can be beneficial.
Paths to help teenagers adjust to a divorce:
Maintain a set schedule.
Have consistent house rules in place.
Be honest about upcoming changes.
Offer affection and give them space to share their concerns and questions.
Things to avoid, if possible:
Saying negative things about your child's other parent or sharing information that is not age appropriate.
Having your teen witness ongoing arguments and disputes.
Asking your teenager for information about your spouse or using them to pass messages.
Seeking professional help could be advised if your teenager exhibits significant academic decline, isolation behaviors, sleeping issues, use of alcohol, anger, sadness, or aggression. While it can be uncomfortable to confront a teen on these issues, coping with problems now can reduce the likelihood of unhealthy behaviors rooting into long-term habits.
Talk to a Lawyer About Your Child Custody Concerns
If you have teenagers and younger children, it is likely you will be concerned on how they are acclimating to the news of their parents divorcing. And you are also probably wondering how child custody schedules and parenting plans will be addressed. Talk through your worries with an Orlando divorce lawyer. A skilled attorney will listen closely to your objectives and share ways to make your goals a reality.
Whether you are thinking of moving out, have already separated and are pursuing a divorce, or are actively negotiating divorce terms, a legal professional can provide you with best practices.
Have you been struggling with parenting a teenager while navigating a separation or divorce? Divorce is a huge life change and impacts the entire family. Thankfully, there are an array of support systems that can guide you and your family through the process. For one, you need a legal expert working for your best interests. Connect with the seasoned family law attorneys at Donna Hung Law Group. With years of Florida family law experience, our attorneys know how to guide you toward the post-divorce life you are seeking. To get started, call 407-999-0099 or contact us online to schedule an initial evaluation.