Uncontested Divorce And Co-Parenting Agreements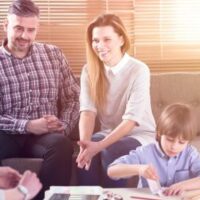 There are a variety of issues to address when a couple chooses to end a marriage. If you are considering an uncontested divorce, aspects of your divorce settlement will need to be negotiated. And if you are a parent, part of this process will be finalizing a parenting plan agreement.
Parenting plans are great tools to help divorced parents transition from being married to being two individuals who are committed to co-parenting. Cutting ties with an ex is not possible when there are minor children, but an uncontested divorce is still possible if both parties are open to working through custody concerns and child scheduling issues. To protect your interests and achieve your parenting goals, connect with an experienced Orlando divorce lawyer.
Communication Is a Key Part of the Process
When divorcing spouses disagree about every issue, litigation is required. Contentious disputes can be emotionally draining and expensive. It makes sense that parents have strong opinions about where their children will live and how they will be raised, but if there is a path to agreeing on issues, developing a parenting plan through mediation and negotiation may be possible.
There are strategies that can help parents come to a parenting plan agreement. For example, some find it is beneficial to begin to view the relationship from more of a business lens than an emotional one. After all, business agreements are drafted to bring gain to both parties, and this is also possible when there is a clear, detailed co-parenting arrangement in place.
If you have a hard time talking to your soon-to-be-ex spouse, part of the plan can be establishing how communication will happen. You do not have to engage in emotional conversations to effectively co-parent. Establishing a form of electronic communication can be helpful.
Seeing a Parenting Plan Through
Naturally, it can be awkward to launch a co-parenting relationship with someone you were married to, but it is possible. Having a written plan in place so expectations are clear is best. Then, you can focus on how to help kids transition between households. Some strategies that have worked for co-parents include the following:
At each home there are extra items in case a kid forgets clothes and toiletries.
Time is provided after pick up and drop off to allow children to settle in,
Routines are agreed to, such as bedtimes and homework expectations.
If you would like to connect with a legal professional to talk through the details of what can be included in a Florida parenting plan, connect with an Orlando divorce lawyer.
Are you a parent who is wondering if an uncontested divorce is an option for you? The knowledgeable family law attorneys at the Donna Hung Law Group will listen to the details of your situation to determine a strong path forward. Our attorneys provide clients with the legal support they need. We are skilled at creating parenting plans to meet the needs of individual families and are experienced at addressing child-related issues throughout the divorce process. Call or contact the office today to schedule an initial evaluation.