When Should I Connect With A FL Divorce Attorney?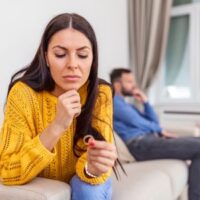 When considering leaving a marriage, there are a lot of factors to consider. Some are worried about how a divorce could impact their income and retirement plans. Others are unsure how child custody will be handled and if support payments could be part of their divorce agreement or not. Whatever your situation, discussing the details of your case with a Florida family lawyer will result in you making more informed decisions.
Not all divorces are litigious, but even if you and your spouse are open to a collaborative divorce, you need to be sure your best interests are being considered each step of the way. To build the future you want, reach out and connect with an Orlando divorce lawyer.
Deciding to Talk to an Attorney
Once you are at your first appointment with an attorney, you can share with them your key concerns and they can inform you of possible paths to resolution.
Make an appointment with an attorney today if any of the following are true:
Divorce papers were served to you.
You have been thinking of divorcing for an extended period of time.
Your spouse is talking to a divorce attorney.
After being separated for a while, you believe it is time to pursue divorce.
You are separated and suspect your spouse is moving assets.
With a lawyer on your side, they will work to achieve your main objectives. When people decide to forgo an attorney and navigate a divorce on their own, it is possible they will exit the marriage in a financial condition that is fragile or agree to child custody terms that don't align with their long-term plans. Do-it-yourself divorces can lead to more legal issues later.
A Lawyer Will Walk You Through the Process
Instead of rushing to the finish line, be sure you are making the best decisions for your future throughout the divorce process. From your very first meeting to the final signing of divorce papers, your Orlando divorce lawyer will inform you of your options and recommend paths forward. With legal representation on your side, you will reduce the chances of future legal battles.
Whatever is on your mind, from who will keep the marital home to who will take on the business debt you and your spouse agreed to during the course of your union, a lawyer can provide you with guidance. In short, connect with a Florida family lawyer whenever you have questions. There is legal support available.
Are you thinking of leaving your spouse but are unsure how a divorce attorney could help you? It is common to have a lot of questions about how a divorce will impact you and your future, a professional can guide you through the process. Even if you and your spouse agree on asset division, talking to the seasoned family law attorneys at Donna Hung Law could introduce you to possible paths forward you would not have been aware of on your own. To access years of experience, call 407-999-0099 or contact us online to schedule an initial evaluation.