Why Virtual Parenting Time is Effective in the Coronavirus Era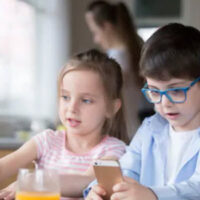 Divorced and separated parents in Florida and across the nation are getting used to the new coronavirus reality. Stay-at-home orders, quarantine, closed schools, and the nationwide fear of COVID-19…
The coronavirus pandemic has forced parents to alter their usual child custody and visitation schedules and change routines, causing a great deal of stress in children. An increasing number of divorced parents utilize "virtual parenting time" to interact with their children and keep in touch during the pandemic.
The Use of Virtual Parenting Time is On the Rise
Although virtual parenting time, which can occur via FaceTime, Skype, and other communication services, cannot replace in-person interactions with the kids, they can give a sense of normalcy for children during this time of uncertainty.
Nowadays, about nine-in-ten American adults have access to the Internet, and the vast majority use it every day. Children and teens, meanwhile, use the Internet and tech from a young age, and rely on social media and messaging apps as their primary method of socializing and communicating.
The use of virtual parenting time has been on the rise in recent years. Basically, VPT refers to the use of online communication technologies or apps to facilitate virtual interaction between parents and their children.
Do Florida Courts Recognize the Use of Virtual Parenting Time for Visitation Purposes?
In recent years, judges in Florida family law courts have begun to support the use of virtual parenting time, especially when in-person contact between a non-custodial parent and their children is not possible or practical. However, most judges agree that virtual parenting cannot replace real "face-to-face" contact.
In the coronavirus era, however, virtual parenting time is often the only way to interact with children for many non-custodial parents, especially those who live in another state.
Forms of Virtual Parenting in the Coronavirus Era
Virtual parenting time, also known as long-distance parenting, can take various forms, including:
Text messaging
Emails
Facebook, Instagram, Snapchat, Twitter, or another social media platform
Facetime
Zoom
Skype
Unlike emails and instant messaging apps, video calls remain the top choice for most parents because it allows communicating with the child in the most realistic way possible. A video call allows a parent to see their child's emotions and expressions, play games, and participate in many other activities.
Types of Virtual Parenting Activities
If you are trying to create a virtual parenting time plan, there are many things to consider. For example, the book titled "Parenting Online: An Exploration of Virtual Parenting Time in the Context of Separation and Divorce" by Michael Saini, Faye Mishna, Jessica Barnes, and Shely Polak provides considerations geared to the child's age (page 135-136).
Your virtual parenting plan can consist of various types of activities, including:
Watching movies or TV series together while in a video call;
Playing online games together (chess, card games, or videogames such as FIFA);
Reading your child bedtime stories via an audio or video call;
Having a virtual field trip together; and
Helping your child do their homework via Skype or FaceTime.
This is a non-exhaustive list of virtual parenting activities. When creating activities for your VPT plan, consider your child's age and interests. Contact an Orlando family attorney at Donna Hung Law Group if the custodial parent is withholding child visitation. Call at 407-999-0099 to get a consultation.
Resources:
researchgate.net/publication/271755706_Parenting_Online_An_Exploration_of_Virtual_Parenting_Time_in_the_Context_of_Separation_and_Divorce
pewresearch.org/internet/fact-sheet/internet-broadband/
https://www.donnahunglaw.com/when-do-florida-courts-order-an-unequal-division-of-marital-property/