Restraining Orders in Florida Down During the COVID-19 Pandemic, And Here's Why It's Disturbing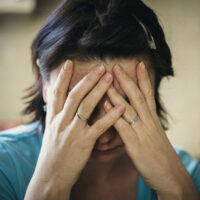 While some people presume that more couples are inclined to get divorced during the COVID-19 pandemic, statistics show that divorce filings in Florida remain steady. A report by Fox 13 News shows that while the number of divorce filings in Florida during the coronavirus pandemic has not changed compared to the pre-COVID-19 numbers, the number of restraining orders actually went down.
While experts were quick to see the declining number of restraining orders as "good news," this is actually more troubling and disturbing than it might seem at first sight.
Divorce Filings Remained Steady During the COVID-19 Pandemic
While civil and criminal trials in Florida are on hold, many courts continue handling essential legal matters, including divorces and child custody.
Different couples handle isolation and stress differently. Some hold on to each other, while others are more inclined to go separate ways. While courts say that divorce filings have remained steady over the past two months, family law attorneys say their phone "has been ringing off the hook" with Florida couples looking to get divorced, according to the report.
However, many couples are waiting until the pandemic ends so that they can get a court date. That does not mean, however, that the COVID-19 pandemic is the main culprit behind divorces. In most cases, the pandemic and the resulting stress is merely a contributing factor that may prompt people to split up when they were already on the brink of filing for divorce.
Restraining Orders Went Down During the Pandemic
At the same time, the report showed that the number of restraining orders went down. However, that does not necessarily mean that the coronavirus pandemic led to fewer domestic violence incidents.
In fact, that seems to contradict the Forbes report showing that the National Domestic Violence Hotline received nearly 2,350 calls in which COVID-19 was cited as "a condition of abuse" between March 16 and April 6.
Despite the high number of coronavirus-related complaints of domestic violence, many victims are unable to get out and call for help – or even make a phone call – during the pandemic due to being stuck in the house with their abuser.
Unfortunately, many domestic violence survivors have no place to go during the coronavirus pandemic. Other factors that increase the risk of domestic violence during the pandemic include:
A victim is confined to a small place with their abuser for prolonged periods of time;
The shelter-in-place order prevents the victim from going outside to find some reprieve;
Financial uncertainty, stress, and fear of infection; and
The mandatory lockdown and business closures mean that the abuser remains home for long periods of time, increasing the risk of re-assault.
During the coronavirus pandemic, many domestic violence victims are trapped at home with their abusers. Most of them have no other place to go to get help. While some run away from home to avoid being trapped with their abusers, most others endure domestic abuse and are afraid to make a phone call to report domestic violence.
If you have become a victim of domestic violence during the COVID-19 pandemic, contact our Orlando divorce attorneys at Donna Hung Law Group to get immediate help and protection. Call at 407-999-0099 today.
Resources:
fox13news.com/news/divorce-filings-remain-steady-restraining-orders-down-during-coronavirus-pandemic
forbes.com/sites/rachelsandler/2020/04/06/domestic-violence-hotline-reports-surge-in-coronavirus-related-calls-as-shelter-in-place-leads-to-isolation-abuse/#28c28a17793a
https://www.donnahunglaw.com/couples-more-likely-to-seek-impulsive-divorces-during-the-coronavirus-quarantine/