Understanding the Financial Consequences of Divorce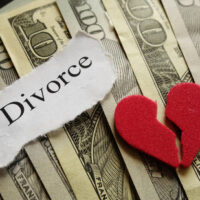 Divorce affects all areas of each spouse's life – from where to live to parenting, but one area that is universally affected for all couples is finances. Spouses enter a marriage with clearly identifiable assets and liabilities, but these lines quickly become blurry in many relationships, as the couple starts to accumulate property and debt over the course of the marriage. When divorce enters the picture, all this combining must be unwound, including figuring out whether property brought into the marriage is now subject to division in divorce. This financial separation will have long- and short- term effects that divorcing spouses must be factor into their lifestyle once everything is finalized. Stepping into this new phase of life without a firm grasp on a realistic budget, and how to generate sufficient sources of income, can lead a divorced individual into financial crisis. Recent studies have found that divorce is one of the most stressful life events a person can experience, and the financial repercussions of this decision is the principal reason for much of this difficulty. Making financial adjustments following divorce is inevitable, but planning for the shift in advance should help to minimize the negative impact, and allow for faster recovery. A discussion of how to plan for the finances of divorce, including key aspects of the divorce process that influence this issue, will follow below.
Finances after Divorce
One large issue divorce presents for many former spouses is the added expenses of child support and/or alimony, which must be paid on less income, and while solely supporting a new household. These expenses are not insignificant, and new divorcees need to factor how to incorporate these costs into a new budget. For those receiving child support or alimony, it is important to decide how best to allocate the funds. Specifically, an assessment of whether this money is needed to meet necessary expenses, or is extra because the person has sufficient earnings, should be made, and for all divorce judgments issued by the end of the 2018, alimony must be reported as income. This distinction is important because it will affect the recipient's potential tax liability, and given that single taxpayers have fewer tax advantages than married couples, this income can have a notable effect on the amount owed. What this issue highlights is the need to consult with a financial planner before the divorce is finalized, and the full extent of the financial repercussions are realized. This consultation is particularly important because of the division of assets and debts divorce requires. Knowing how to maximize assets awarded, balance out the effect of assumed debts, and absorb potential tax consequences of a property settlement, is a big part of weathering the financial adjustments divorce demands.
Divorce and Finances
As noted, divorce creates additional expense for both spouses, including the costs of obtaining the divorce itself. Certain aspects of the process give spouses more autonomy over the outcome if they choose to negotiate or mediate a settlement, such as property division, and the payment of alimony, compared with others, principally child support. Spouses are free to waive rights to alimony and property, assuming it will not leave a person destitute, but child support is not waivable, being a right that actually belongs to the child, and is calculated per a set formula regulated by the law. Thus, divorcing parents will need to figure out how to fit this monthly expense into their budget, while realizing that the money is almost automatically deducted by the employer under the terms of an income deduction order, and will not be seen by the payor parent.
Contact a Florida Divorce Attorney
Navigating the consequences of divorce takes time, planning, and a good amount of patience. If you need assistance understanding how divorce may affect you, talk to the experienced attorneys at the Donna Hung Law Group. Our Orlando attorneys know the lifestyle changes you are facing, and will work to get you the best possible outcome. Contact us at (407) 999-0099 for a consultation.
Resource:
sun-sentinel.com/florida-jewish-journal/opinion/fl-jj-finance-rosner-dealing-financial-stress-single-20181003-story.html