Pros and Cons of Mediation in a Florida Divorce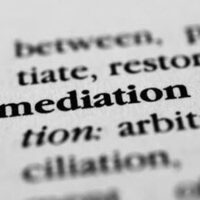 Nobody wants to endure the stress of a divorce, and one sure-fire way to minimize the stress is to avoid litigation. Luckily, there are alternatives to the long, exhausting, and costly court process. Mediation is one such alternative.
An increasing number of couples in Florida opt for mediation, which allows you to decide on the outcome of the divorce without a judge. By choosing mediation, you have to work with a neutral third party to reach a consensus on alimony, child custody, asset division, and other issues in a divorce.
However, just like collaborative divorce is not for everyone, divorcing via mediation may not be for you. Moreover, mediation is a good option to settle your divorce quickly, not to mention that it costs less than going to court. Still, mediation does not work for everyone.
Learn more about the pros and cons of using mediation in your Florida divorce.
Pros of Divorce Mediation in Florida
Generally speaking, mediation is a more peaceful way to divorce than battling it out in court. Not only is mediation less stressful and less expensive, but it also allows parties to resolve their issues quickly. For some, it takes just a couple of sessions that last several hours to finalize all the aspects of their divorce. By contrast, a regular divorce can last six months to a year.
The main advantage of mediation is that you have complete control over the entire process. If both parties have a consensus and what is best for them, they can finalize their divorce without having a judge who makes a decision that may be detrimental to both spouses.
Cons of Divorce Mediation in Florida
Since mediation requires compromise, it could be problematic for couples who are not willing or not capable of reaching a consensus. If the divorce involves a considerable amount of hard feelings and resentment, mediation may be a waste of everyone's time and money.
Another disadvantage of seeking a divorce via mediation is that not all agreements made in mediation are enforceable. In many cases, either party can challenge them, not to mention that many decisions still require court approval.
Also, if one spouse is submissive and the other is dominating, mediation may be much more favorable to the dominating spouse. The choice of mediator is also going to play a critical role in the outcome. In some cases, mediators could be biased or not experienced enough.
Those who worry that their spouse is hiding assets from them should keep in mind that mediation does not require spouses to disclose all assets.
Get Help from an Orlando Mediation Attorney
Mediation is a good option to get divorced peacefully, quickly, with more control, and pay less. Mediation can help resolve child custody, alimony, asset division, and other issues.
However, despite its many benefits, mediation is not for everyone. That is why you should talk to an Orlando mediation attorney to determine whether you should be looking for divorce alternatives such as mediation and collaborative divorce. Contact our lawyers at Donna Hung Law Group to speak about your situation. Call at 407-999-0099 to evaluate your case.
https://www.donnahunglaw.com/5-tips-to-overcome-hurdles-in-your-florida-divorce-mediation/