What Divorcing Senior Citizens Over 50 and 65 Need to Know About Alimony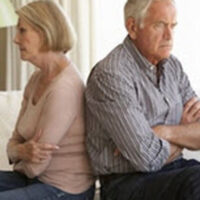 In the past three decades, the divorce rate for adults 50 and older in the U.S. has nearly doubled. For adults 65 and older, meanwhile, the divorce rate has tripled since the 1990s.
Divorce among seniors is commonly referred to as gray divorce. While gray divorce has become a new trend across the United States and other Western countries, getting divorced after 50 never comes easy. In fact, getting divorced for couples over 50 and 65 has substantial financial consequences.
Interestingly, while the divorce rate for senior citizens has doubled and tripled, the divorce rate for most other age groups has declined.
Gray Divorce Statistics in Florida and the U.S.
From a financial standpoint, getting divorced after 50 can have far-reaching consequences. Statistics show that gray divorcees tend to be less financially secure than their married and widowed counterparts.
According to estimations, only about 80% of gray divorcees receive Social Security benefits compared to 93% of widowed seniors and 91% of married senior citizens. Statistics also show that poverty levels for those who get divorced after 65 and older are about 19% compared to 3% for married seniors and 13% for widowed seniors.
According to KAKE, Orlando, Florida, is the third city with most gray divorcees. Citing 2018 Census data, the study found that more than 26% of the senior citizens older than 64 were divorced.
Many retirees choose to relocate to Florida due to the Sunshine State's tax friendliness and lack of state income tax. That means that Social Security retirement benefits, income from an IRA or 401(k), and pension income are all untaxed.
Why Are Senior Citizens Getting Divorced?
Although the reasons why baby boomers are getting divorced vary from one couple to another, the most common reasons include:
Growing apart as a couple
Losing feelings for one another
Developing a romantic relationship with someone else
Having irreconcilable differences
Having incompatible sex drives
Wanting to change one's lifestyle dramatically
Determining Alimony in a Gray Divorce
As lifespans keep increasing, it is becoming less rare for older people to consider divorce and find new romantic partners. In recent years, senior citizens have become more inclined to re-evaluate the quality of their lives and their level of happiness.
However, gray divorce can be complicated for multiple reasons. One of the most common ones is determining alimony when a couple has been married for three, four, five, or more decades.
Negotiating a spousal support arrangement is one of the many complications that older individuals face when getting divorced. If gray divorcees cannot reach a consensus through Collaborative Law, the Florida court will make that determination on their behalf. The court will consider the following factors:
The duration of the marriage
Age disparity
Marriage contributions
Each spouse's retirement age
Retirement accounts
The earning capacity of both spouses
Medical issues
Physical and emotional health
Shared investments, if any
If a spouse who is retired and has no regular wages was ordered to pay alimony, the payor spouse might consider a lump sum payment. If gray divorcees share significant assets, they can choose to adjust their retirement funds to provide adequate support in place of alimony. Reach out to an Orlando divorce attorney to discuss your legal issues if you are getting divorced after 50. Contact Donna Hung Law Group for a consultation. Call at 407-999-0099 right now.
Resources:
kake.com/story/41595543/gray-divorce-in-the-us-2020-edition
ncbi.nlm.nih.gov/pmc/articles/PMC5479483/
https://www.donnahunglaw.com/you-need-these-3-experts-to-facilitate-collaborative-divorce/